Meeting
Arts in Europe in the Era of Postmemory: Debate, Performance, Cinema
October 3, 2019, 18h30
Pequeno Auditório da Culturgest (Lisbon)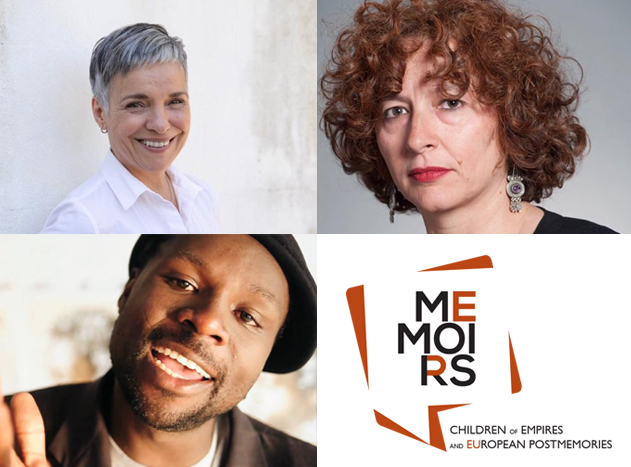 Enquadramento
Qual o impacto da transferência de memórias do fim do colonialismo na Europa atual? Como se manifestam estas memórias em termos sociais, culturais e artísticos?
O músico e slammer belga-congolês Pitcho, a cineasta franco-argelina Fatima Sissani e a escritora portuguesa Dulce Maria Cardoso refletem sobre as mudanças culturais protagonizadas pelas gerações seguintes em Portugal, na Bélgica e em França, a partir das suas experiências artísticas. Após o debate, Pitcho apresenta a performance L'expérience Pi. Moderação do debate: Margarida Calafate Ribeiro. Pelas 21h00 terá lugar a projeção do filme La langue de Zahra (A língua de Zahra) de Fatima Sissani.
Este Encontro, promovido pelo projeto MEMOIRS — Filhos do Império e Pós-memórias Europeias, que junta investigadores/as de França, Bélgica e Portugal, integra um debate, uma sessão de cinema e uma performance à volta da mesma questão - como se manifestam as memórias do fim do colonialismo em termos sociais, culturais e artísticos na Europa -, fazendo parre do Ciclo Memórias Coloniais, que decorre na Culturgest (Lisboa), entre 19 de setembro e 5 de outubro (ver programa completo).

Sobre o filme
A partir do que seria fazer o retrato fílmico da sua mãe, Fatima Sissani procura decifrar os silêncios implícitos na imigração argelina para a França e consegue-o de um modo completamente inovador em termos narrativos. A cultura kabyle de que faz parte a sua mãe está de tal forma enraizada em si, que apesar dos muitos anos de vivência em França, Zahra recusou-se a aprender o francês. Este é o motivo para a realizadora trabalhar a arte da palavra, tão cara ao universo cultural da imigração argelina. Relegados ao silêncio e ao isolamento de postos de trabalho braçais, os corpos destes imigrantes demoraram a chegar aos palcos da criatividade e da cena cultural francesa. Fátima Sissani filma o apartamento, o retorno à língua de origem e a libertação de histórias que isso acarreta.
Ficha técnica: Realização de Fatima Sissani, Imagem - Olga Widmer, Som - Olivier Krabbé, Montagem - Anne Lecour, Produção e Distribuição - 24 Fotos, LM TV Sarthe (Televisão Le Mans). Produção – Scam/Esboço de um sonho. Direitos de exibição - 24 Imagens, ADAV, The Doc House, Museu Nacional da História da Imigração, The Harmattan TV, The Harmattan TV.
Curadoria: MEMOIRS — Filhos do Império e Pós-memórias Europeias é um projeto de investigação comparada sobre a diversidade europeia a partir das suas heranças coloniais. Estuda casos de Portugal, França e Bélgica onde ecoam presenças de Angola, Moçambique, Guiné Bissau, São Tomé e Príncipe, Cabo Verde, Argélia e Congo. O projeto está sediado no Centro de Estudos Sociais da Universidade de Coimbra.
Apoio: Conselho Europeu de Investigação (ERC nº 648624)