Are you planning to come to the University of Coimbra and would like to see whether your Portuguese is up for it? Have you arrived to Portugal without actually speaking Portuguese? Always wanted to learn a foreign language yet never been able to find the time or the language course that are right for you?
E-LOCAL is a platform which hosts e-learning courses for 6 languages (level A1):
Dutch
Finnish
Hungarian
Italian
Polish
Portuguese
On the E-LOCAL platform, you can
learn at your own pace the essentials of grammar and culture;
become inserted into authentic cultural contexts with the help of video, photos, audio recordings, etc.;
join, if you wish, a closed learning group on Facebook to interact with other E-LOCAL users and native speakers
Access conditions:
If you are a student at the University of Coimbra (no matter which course), you can access one of the E-LOCAL language courses for free, provided you register with the UC-provided email address (the same you use to enter the inforestudante platform). If you are an incoming mobility student, you can also use the platform for free. Other users gain an exclusive access to one of these courses for a whole year (365 days) by paying an administrative fee of 20 euros. Each course has a demo version to help you decide which of the courses to join.
Summary:
E-LOCAL users are invited to follow the adventures of two mobility students, Anna and Alex, from their first day in the new town: Bologna, Coimbra, Debrecen, Leuven, Poznan or Rovaniemi. Helped by two local friends, Anna and Alex set off to discover the town, the country and the language.
Enter the E-LOCAL platform here. Try a demo version of the chosen language course.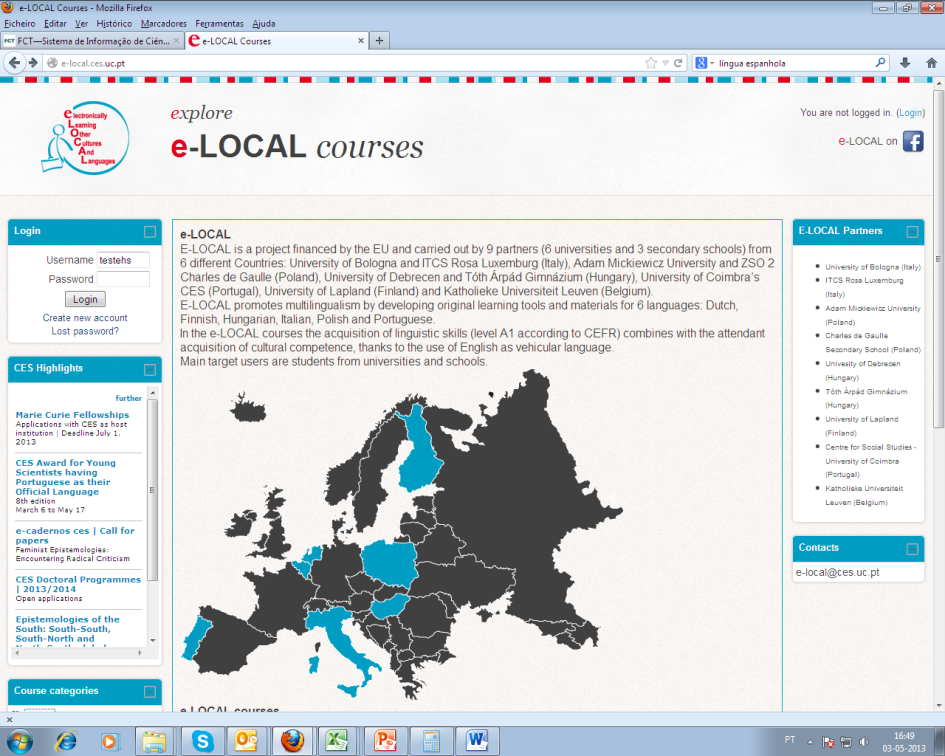 Project:
E-LOCAL aims to promote multilingualism by developing original online learning tools and materials for 6 less widely used and less widely taught languages in Europe.
E-LOCAL platform was developed in 2010-2012 by 6 country teams, a collaboration between 6 universities and 3 secondary schools. The project was coordinated by the University of Bologna and funded by the Lifelong Learning Programme (European Commission),
For more information on the project, click here.
Portuguese course:
The University of Coimbra and the Centre for Social Studies recognise the importance of the Portuguese language and aim at its promotion by launching the E-LOCAL platform on the CES website.
Being the 6th most spoken language in the world, Portuguese has gained an increasing commercial, social, cultural and political relevance, more recently thanks to the role of countries like Angola or Brazil in their geopolitical regions and in the world.
Besides, the high degree of mutual understanding between speakers of Portuguese and those of Spanish, French and Italian, makes Portuguese an easy gateway to a community of over 846 million speakers.
Open up to the Portuguese-speaking world!