Culturizing Sustainable Cities
Catalyzing translocal learning and advancement
of emerging artistic/cultural environmental approaches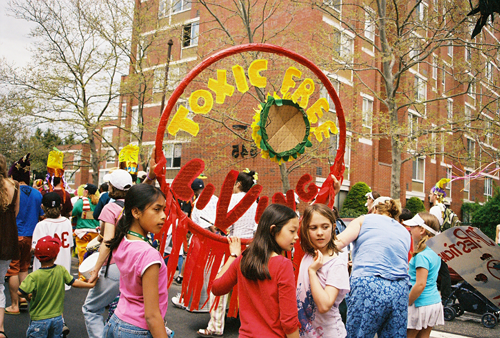 Wake Up the Earth Festival 2006, Jamaica Plain, Boston, U.S.A., organised by Spontaneous Celebrations, photo courtesy of Claudia Carvalho

PI: Dr. Nancy Duxbury (duxbury@ces.uc.pt)
Researcher and Co-coordinator, Cities, Cultures and Architecture Research Group
Centre for Social Studies, University of Coimbra, Portugal

How can artistic/cultural practices be embedded within the planning and development of more sustainable cities? How can local governments integrate culture within sustainable city planning and related initiatives? How can artistic/cultural activities in urban environments contribute to building more sustainable cities? How can these practices inform and advance emerging conceptualization and theorization of the relationships between culture and sustainability?
This research project aims to advance knowledge about the relationships between culture and local sustainability through developing robust empirical evidence about artistic activities on local environmental/sustainability issues; policy/planning mechanisms supporting this activity and integrating culture into sustainability policies/plans; and existing challenges and policy gaps.
This project recognizes that urban sustainability is a contested and pluralistic concept centred on socio-cultural processes of negotiation and dialogue to imagine and reach collective decisions on future paths and objectives, and to catalyze actions, circumscribed by environmental limits and social dynamics. Culture includes creative expressions, activities, and processes that generate, reflect, and embody the symbolic resources that individuals need to navigate the world around them and potentially act as agents of broader cultural change and adaptation.
The research has an international scope and two streams of research activity: 1) the development of a collection of case studies involving at least 20 local artistic/cultural projects and policy/planning initiatives and two in-depth city cases, and 2) monitoring and assessment of international initiatives linking culture with urban sustainable development, and local responses to them.
The project engages international networks, developing eSeminars (2015 and 2016), an international conference (2017), publications, and policy briefs and recommendations.
eSeminar1: "Communicating water sustainability through interdisciplinary creative practice: the Fluid City project, Auckland, New Zealand" - Alys Longley (University of Auckland) - 27 de março de 2015, 15h00, Sala 8, CES-Coimbra
Funder: FCT – Fundação para a Ciência e a Tecnologia, Portugal