Corrine Fitzpatrick

j'aime cette lumière nerveuse,
anonyme et changeant comme la durée, je t'offre le saut périlleux tendrement/gentillement
s'il te plait déshabille-toi jeu mort sur la zone verte/ la pelouse vert pinacle ci-dessus
s'il te plait déshabille-toi
la chaleur est argile je suis solide non, je me décompose








Orchestre émotionnel
(pour Marina Rosenfeld)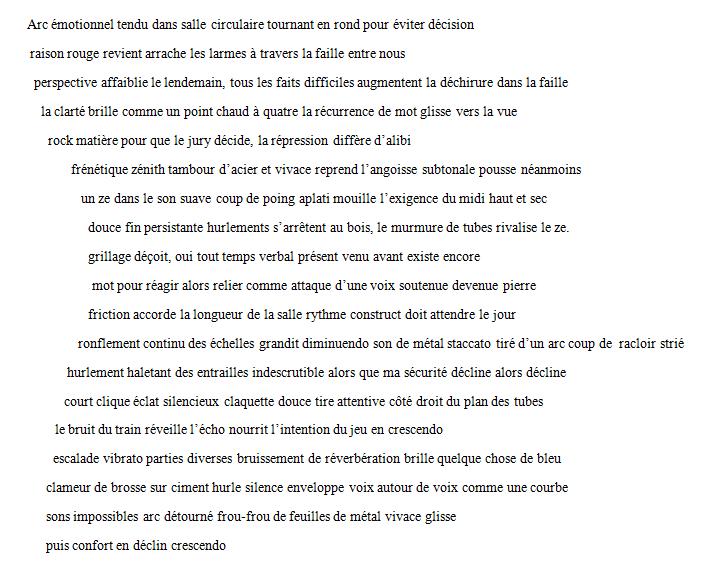 Corrine Fitzpatrick est l'auteure de on melody dispatch (Goodbye Better, 2007) et Zamboangueña (sona books, 2007). Poésie et écrits critiques ont été récemment publiés dans Women & Performance: a journal of feminist theory, Lungfull!, Poetry Project Newsletter, Denver Quarterly, et The Brooklyn Rail. Fitzpatrick est la principale Coordinatrice du Program for the Poetry Project à l'Église St. Mark, où elle a travaillé comme conservatrice et administratrice durant la période 2005-2010. Elle a obtenu le Bachelor of Arts en Littérature et Écriture à l'Université de Californie, San Diego en 2004, et un Master of Fine Arts from Milton Avery Graduate School of Arts à Bard College en 2010. Elle habite à New York.




| | |
| --- | --- |
| | Financiamento: |
| | |