Programme
Keynotes
Keynote 1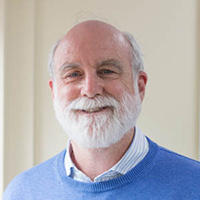 Colin H Williams, Cambridge University, Cardiff University
Popinjays, Pragmatism and Policy: A New Speaker Triptych
Thursday 14 | FLUC-ANF.II | 9h30-11h00
Abstract
Understandably perhaps, an emergent concept such as 'New Speakers' will take time to gain acceptance and generate a common core set of values and paradigmatic implications. I will be arguing that the time for excessive talk about what New Speakers could add to the repertoire should give way to two tendencies; first far greater collaborative and cross-contextual analysis of real-world experiences so as to feed into the second tendency, namely a pragmatic and politically-savvy push to embed programmes which assist New Speakers within official policies, whether or not they have the 'New Speaker' tag. The key issue is to create outcomes which effect real change for the myriad 'types' who fall under the broad New Speaker category. This presentation will address several of the issues which continue to vex and perplex us as we come to terms with using a new frame/lens/set of insights. I welcome the genuine collaborative intellectual, working culture which has been engendered within this COST Network as it should surely lead to far-reaching changes which will be realised only if we maintain the momentum-and the real challenge remains for us to engage and influence policy-makers in a consistent not epiphenomenal manner. But to be heard we need sound evidence and arresting recommendations which add value to an already crowded public arena!
Bio
Colin H. Williams FLSW is a Visiting Fellow of St Edmund's College, University of Cambridge where he is working on aspects of comparative language strategy analysing how language policy is formulated and implemented in jurisdictions such as the UK, Canada, Finland and other European contexts. Prior to his current position he was a Research Professor in the School of Welsh, Cardiff University, Cardiff, UK.
Keynote 2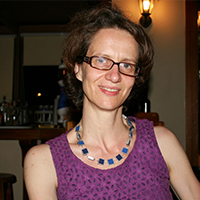 Cécile B. Vigouroux, Simon Fraser University
(Re)thinking Newspeakerism from a Sub-Saharan African Perspective
Friday 15 | FLUC-ANF.II | 9h30-11h00
Abstract
Like most linguistic notions in currency in the literature, that of 'new speaker' was born out of language dynamics in the European context. The notion is intended to get rid of the ideological burden of 'nativespeakerism', which usually indexes ownership, legitimacy, authority, and authenticity over one's heritage language. In fact, it has begged the question of whether fluent nonnative varieties are less, or not, legitimate. The idealized notion of 'native speaker' also points to the intrinsic indexical nature of language as a national or group identity marker.
Through an examination of some contexts in Sub-Saharan Africa, I wish to extend our understanding of speakers' acquisition of non-heritage languages. I call into question the literacy-based lens through which language acquisition has typically been approached both in the literature on newspeakerism and, more generally, in the scholarship on migration and language. This tradition has overly represented migration as South-to-North mobility. It has framed language acquisition and performance from the perspective of language normativity. However, in the sub-Saharan African context, where the acquisition of African indigenous languages (be they heritage or not) is normally naturalistic (unlike that of former colonial languages), linguistic norms are approached quite differently, raising the issue of who qualifies as a legitimate speaker of a language.
In addition, one can claim membership in an ethnic group without speaking the language associated with it or speak the language of an ethnic group without claiming membership in it. In other words, speaking a language does not necessarily index ethnic membership. Thus, I argue that the sense of language ownership presupposed by the newspeakerism literature remains an experience foreign to most African speakers.
Finally, I want to draw attention to an under-researched facet of how newspeakers acquire other languages in the context of migration. The scholarship on migration and language has overwhelmingly focused on migrants' acquisition of the language(s) of their host country. Not much work has been done on the migrants learning in the host environment one of the languages spoken in their country of origin. The dynamics of such language choices call for a close examination of the socioeconomic conditions that drive language acquisition in the migration context and the shift in language indexicalities that the latter entails. Finally, I want to show how these dynamics prompt us to revisit the traditional correlation between the migrant's ability to speak the host country's language(s) and their likelihood to be integrated in the host society.
Bio
Cécile B. Vigouroux is an Associate Professor of sociolinguistics at Simon Fraser University, BC, Canada. She received her PhD at Université Paris X-Nanterre. She has published several refereed journal articles and book chapters on different ethnographic aspects of transnational migrations within sub-Saharan Africa. Her scholarship focuses on transnational identity formation, the reshaping of linguistic ideologies, sociocultural transformations triggered by new forms of mobility, socioeconomic inequalities, the impact of informal economy on language practices, and La Francophonie. She bridges sociolinguistics with other disciplines such as geography and economy. She has co-edited (with Salikoko S. Mufwene, University of Chicago) Globalization and language vitality: Perspectives from Black Africa. London: Continuum Press, 2008; and Colonisation, globalisation, vitalité du français, Paris: Odile Jacob 2014. She is currently co-editing Perspectives on language and economy
Panels (Working groups)
1 | Ideologies, self-perception and practices in new Speakers' competence and varieties
Ane Ortega
Friday 15 | FLUC-TP1 | 11h30-13h30
Competence, or rather, the "type" of competence new speakers acquire, has been found to be a major factor with important consequences on language use, self-perception of new speakers as legitimate speakers of the language, and even on the opportunities they have in the job market where the new language is required. The type of competence and linguistic variety new speakers acquire are closely linked to their learning experience, which in turn is mediated by the ideologies in the linguistic community on what constitutes competence and on the variety that should be taught to new speakers. In this panel we present data from three contexts: the Irish (Noel O'Murchadha, Collin Flynn, and John Walsh), the Breton (Stefan Moal) and the Basque (Ane Ortega), who will talk about how competence is understood in each ; the presentation of the cases will be followed by a round table with Education professionals and language promoters from the Irish, Scottish and Basque contexts.
Participants
Ane Ortega, "Begoñako Andra Mari" Irakasle Unibertsitate Eskola
Noel O'Murchadha, University College, Dublin
Colin Flynn, Dublin City University
John Walsh, National University of Ireland, Galway
Stefan Moal, Université de Rennes 2
Blathnaid ni Ghreachain, CEO of Gaelscoileanna
Arrate Illaro, Basque language promotion, Euskaltzaleen Topagune
Donalda McComb, Head Teacher Gaelic School Glasgow
2 | An investigation of the variables affecting heritage language development, competence and maintenance
Francesca Lamorgia
Thursday 14 | FLUC-TP2 | 14h30-16h30
This panel focuses on two themes:
1. Family language policy
The first part of the panel will look into ways in which parents transmit their mother tongue to their children, focusing on different groups of speakers across different countries, and how their attitudes, cultural identities and migrant trajectory affect family language policy. Within this theme, we explore the ways in which the transforming identities of new speakers of a majority language affect their perception of the value of their own mother tongue, and the ways in which these attitudes impact language choice in the home environment.
This part of the panel will focus particularly on:
parental expectations and strategies to construct safe spaces of language transmission,
challenges and support through institutions like kindergartens and schools,
agents of normalization (Purkarthofer and Muni Toke, 2016; Busch, 2012; 2016);
language and social spaces, as well as manifold linguistic repertoires of heteroglossic acquisition for multilingual competence and practices (Tuan, 1977; Lefebvre, 1991; Giroux, 1992; Massey, 2005; Canagarajah, 2013).
2. The nature of the heritage language.
The heritage language develops differently from the L1 in monolingual children, but also differently from an L2 in second language learners. Heritage language speakers are new speakers because their variety is different from the groups described above, and still very little is known about how the heritage language develops as a result of variable exposure to the input. In addition, the input heritage language children are exposed to is not only quantitatively reduced, but it is also qualitatively different from that of "monolingual native speakers", as the language of their parents often undergoes attrition.
This part of the panel will focus on:
(a) Heritage language development in preschool children
(b) Heritage language competence in school children
Participants
Francesca La Morgia , TCD Dublin
Xiao-Lan Curdt-Christiansen – University of Reading, UK
Agnieszka Otwinowska-Kasztelanic – University of Warsaw
Karolina Mieszkowska, University of Warsaw
Sviatlana Karpava – University of Central Lancashire, Cyprus
Natalia Ringblom, University of Stockholm
Anastassia Zabrodskaja, University of Tallinn
Cassie Smith Christmas, University of Limerick
Blathnaid ni Ghreachain, CEO of Gaelscoileanna
3 | Beyond medium education: the role of new speakers for supporting regional languages acquisition
Maria Garraffa
Saturday 16 | FLUC-TP2 | 9h00-11h00
Preserving languages, such as Gaelic in Scotland, has been a priority for many governments. One of the key policy mechanisms for preserving Gaelic is Gaelic-medium education (GME). Over the last 30 years, many schools have developed GME programs, in which curricular contents are taught through the medium of Gaelic to both native speakers (heritage language speakers) and new speakers (students with no home background). This second category represents an important source for increasing numbers of Gaelic speakers.
How the Gaelic language is perceived by secondary school pupils, and its effects on the linguistic development, has been put to the test within a project aiming to prompt a debate on the use of Gaelic for more than just cultural value. The project involved working with pupils from Glasgow's 'Gaelic School,' the largest provider of Gaelic medium education in Scotland, to investigate how policy makers are currently promoting the language through immersion program in Scottish schools, and how this provision has been received by students at the end of their school cycle. We have worked with students who will soon be leaving school for employment exploring their attitudes and opinions on Gaelic and on their bilingual competence.
In this panel we will focus on how to better disseminate the main findings of the research for the best impact on local educational policy and practice. Evidence from this report could be used for advertising campaigns to encourage parents to choose GME for their children, or to encourage students to take the Gaelic-medium provision at the secondary school stage.
Participants
Maria Garraffa, Psychology Department, Heriot-Watt University
Timea Kutasi, Heriot-Watt University and University of Edinburgh
Bernadette O'Rourke, Heriot-Watt University
Mona Wilson, Chair of Education at Bòrd na Gàidhlig
Donalda McComb, Head Teacher Gaelic School Glasgow
4 | Shaping a Language Support Infrastructure for New Speakers: Experimentations and Positions in an Irish Language "Incubation Space"
Deirdre Ní Loingsigh
Thursday 14 | FLUC-TP2 | 11h30-13h30
Our panel will discuss a new Irish language support and development initiative in Limerick, Ireland. The project, led by
Aonad na Gaeilge
, the Irish Language Centre at the University of Limerick (UL), has been informed by research findings, practices and debates around some of the pertinent issues relating to the subjectivities, learning journeys, and socialisations of new adult speakers of Irish associated with the Language Centre. The core values of the 2017 project are a Participatory Action Research (PAR) approach (Kemmis and McTaggart, 2005); the creation of a "communicative space" (Habermas, 1996) for participants; and strong interconnectivity between stakeholders in language support and planning for new speakerness.
In the current phase of the project a strategic approach to language planning in tandem with health promotion is being explored. The emphasis is on resilience, flourishing and positive lifestyle in health and wellness terms, and supporting language learning and local networks. A public consultation and
Think Tank
event was organised by
Aonad na Gaeilge
in May 2017. Participants were representatives from Irish language promotion and education groups in Limerick; from sporting organisations and wellbeing and fitness initiatives; academics from the disciplines of neuroscience and sport psychology in UL, and new speakers of Irish. Our panel will draw on data gathered during this event and at planning meetings which have taken place in the first phase of the PAR project.
We intend to nurture a strong audience participation in an open forum format following four individual presentations. Here, we anticipate comments, critiques and suggestions which might inform directions for the Limerick project and help clarify possible implications for policy arising from our experimental approach.
Key Questions
How best to foster and benefit from stakeholder engagement in the shaping of a new language support infrastructure?
What can the theme of wellbeing offer as an agenda for new speakerness in Irish and what are the salient challenges?
What might meaningful community engagement for new speakerness look like in practice?
Participants
Deirdre Ní Loingsigh, Director, Aonad na Gaeilge, University of Limerick
Helena Ní Ghearáin, Tutor, Aonad na Gaeilge, University of Limerick
Séamus Barra Ó Súilleabháin, teacher of Irish language classes for adults, slam poet & rap artist
Ainle Ó Cairealláin, Director, ACLAÍ, personal training facility in Cork
5 | New Speakers and the European Charter of Regional and Minority Languages
Pia Lane
Friday 15 | FLUC-ANF.II | 11h30-13h30
The European Charter of National and Regional Minority Languages emphasises the importance of European national minority and regional languages, stating that these languages contribute to European cultural wealth and diversity. 25 European countries have ratified the Charter, and the Council of Europe frequently has recommended that nation states undertake standardisation efforts and encourage use of minority languages in educational. In some cases the recognition of a regional or minority language has encouraged speakers who have been passive bilinguals to start to actively use the minority language through everyday interactions. Such new speakers may present a complex mixed model of revivalist and maintenance strategies.
The goals of the panel are:
Investigate the relationship between New Speakers and standardisation by discussing how standardisation processes might be both emancipatory and exclusionary.
The majority of new speakers of minority languages begin to acquire the target language outside the home, usually within the education system or in a semi-formal learning situation (Walsh and Lane 2016). Therefore the panel will discuss how the varieties acquired and used by New Speakers are perceived by New Speakers themselves and traditional speakers.
The panel will also discuss what factors may make state parties reluctant to ratify the Charter, the implications treaties like the Charter may have on minority languages and New Speakers and what role researchers and policy makers may have in these processes.
Outline recommendations for standardisation and education for the Committee of Experts for the European Charter of National and Regional Minority Languages.
Participants
Pia Lane, Professor, MultiLing, University of Oslo
Sixto Molina, Head of Secretariat, the European Charter of National and Regional Minority Languages
Aleksandra Oszmiańska-Pagett, Member of the Committee of Experts for the European Charter of National and Regional Minority Languages
Anna-Kaisa Räisänen, Kven Institute/Kainun Institutti, Norway
Michael Hornsby, Adam Mickiewicz University in Poznan, Poland
Talwyn Baudu, University of Aberystwyth, Wales
Pia Lane:
Introduction: New speakers, language policy and standardisation
Sixto Molina:
The role of the Council of Europe in protecting linguistic diversity: What are the problems and where are we going?
Aleksandra Oszmiańska-Pagett:
Implications of the Charter on the standardisation and acquisition of minority languages. What role may researchers have in these processes?
Anna-Kaisa Räisänen:
The Charter and the Kven language in Norway: Revitalisation efforts, education and new speakers.
Michael Hornsby:
"Alternative" or peripheral speakers of Welsh and Breton: how the charter could address them.
Talwyn Baudu:
Experiences of a "Neo-native" speaker.
6 | Language policy, learning, and citizenship
Steven Morris and Gwennan Higham
Friday 15 | FLUC-TP1 | 15h30-17h30
Sociolinguistic research increasingly shows a need to rethink how we view the relationship between language, citizenship and the community as a result of globalization and changing migration patterns (Blommaert 2012, Heller 2007, Wright 2015). Redefining such concepts is particularly called for in the domain of language policy. This panel will address the complex and multi-sited nature of language policy and planning processes in various 'new speaker' settings across Europe.
While education policies, issues of citizenship and integration are dominated by nation state discourses, this panel will consider the polycentricity of integration and participation in local and community settings. With specific consideration of issues in Wales, the Basque Country and Latvia, this panel will open discussion on how policy matters are dealt with by speakers 'on the ground' as well as by language policy and planning officer and other agents in managerial positions. We will consider if WG9's current work on critical ethnography can inform policy on a local level and the extent to which this requires a rethinking of language policy and citizenship, allowing room from creativity, inclusivity and the adoption of transversal spaces of language use (Rutter 2015).
Participants
Steven Morris, Swansea University
Gwennan Higham, Swansea University
Anna Augustyniak, Southampton University
Kathryn Jones, IAITHl: The Welsh Centre for Language Planning
Heiko Marten, University of Latvia + Rezekne Academy of Technologies
Nora Schleicher, BKF University of Applied Sciences
Minna. Suni , University of Jyväskylä
Anik Nandi, Heriot-Watt University
Bernadette O'Rourke, Heriot-Watt University
Heini Gruffudd, Welsh language author and chairman of 'Dyfodol i'r Iaith', Welsh language pressure group
Petra Elser, Director of Banaiz Bagara, Basque language centre for migrants
Sanita Lazdiņa, Rezekne Academy of Technologies and Ministry of Education of the Republic of Latvia
7 | New speakers and the future of the Galician Media: Role of crowdfunded Galician newspapers in creation of bottom-up language policies.
Anik Nandi
Thursday 14 | FLUC-TP2 | 17h00-19h00
Recent LPP research reveals how policy-makers endorse the interests of dominant social groups, marginalise minority languages and perpetuate systems of socio-lingual inequality (Nandi 2016). This paper examines the Castilian-dominated Galician linguistic landscape, perceiving the rise of grassroots level actors or agents. These include teachers, parents, language activists, new speakers of minority Galician and other members of civil society, who play a significant role in interpreting and implementing language policy on the ground. This study locates these individuals as 'counter-elites' (Beard and Phakphian 2012), generally comprised of the educated Galician demographic, who if disillusioned with policy decisions of ruling state elites may develop alternative discourses of resistance to hegemonic ideologies (Nandi and Devasundaram 2017). This analysis centres on Galician new speakers as counter-elite intermediaries, who implement bottom-up language policy in diverse arenas and collective mobilisations including several crowdfunded online Galician newspapers (e.g. Galicia Confidencial, Que Pasa na Costa, Praza Pública, Sermos Galiza) as current right-wing government of Galicia of Partido Popular (Popular Party) do not promote newspapers in Galician language. Drawing from in-depth fieldwork in the Galician context, this panel demonstrates that in Galicia's shrinking Galician speaker pool, new speaker counter-elites can play an important role in the language revitalisation process from the ground. The endeavour is to ascertain whether this "active minority" (O'Rourke and Ramallo 2015) can restore prestige of the minority language and if their microcosmic interrogation of the dominant Castilian discourse could lead to bottom-up language policies of resistance. The objective is also to address the main challenges faced by present Galician Media.
Beard, V. and Phakphian, S. (2012) 'Community-based planning in Thailand. Social capital, collective action and elite capture', in Daniere, A. and Luong, H. (eds.)
The dynamics of social capital and civic engagement in Asia
, London: Routledge, pp145-162
Nandi, A. (2016)
Language policies on the ground: Parental language management in urban Galician homes
, unpublished doctoral thesis, Edinburgh, United Kingdom: Heriot-Watt University.
Nandi, A. and Devasundaram, A. I. (2017) 'Contesting the Conventionalising of Castilian: The Role of Galician Parents as Counter-Elites', in Lauchlan, F. and Parafita-Couto, M. C. eds.
Bilingualism and Minority Languages in Europe: Current trends and developments
, Newcastle upon Tyne, United Kingdom: Cambridge Scholars Publishing, pp 12-33.
O'Rourke, B. and Ramallo, F. (2015) '
Neofalantes
as an active minority: understanding language practices and motivations for change amongst new speakers of Galician',
International Journal for the Sociology of Language
, 231, 147-165.
Participants
Bernadette O'Rourke, Heriot-Watt University
Anik Nandi, Heriot-Watt University
Xurxo Salgado, Director of Galicia Confidencial, a crowd funded online Galician newspaper and lecturer of Cyber-journalism at the Univ. of Santiago de Compostela
Ubaldo Cerqueiro, Director of Que Pasa na Costa, another online Galician newspaper and Vice President of Asociación de Medios en Galego (AMEGA)
Valentín García, General Secretary of LPP of the Galician Goverment
8 | New speaker subjectivities: Implications for language policy in Europe and the Americas
Stuart Dunmore
Saturday 16 | FLUC-ANF.II | 9H00-11h00
This panel will address key perspectives on new speakers' identities and their importance to revitalisation initiatives and cultural cohesion in five European contexts, as well as among minority European diasporas in Canada and Argentina. Contributions will be informed by researchers' participation in the New Speakers network since 2013, as well as by invited key stakeholders' perceptions and experiences of fostering new speaker identities. Policymakers in Scotland, Wales, Canada, Ireland, Galicia and Catalonia each make frequent reference to the role that new speakers may play in future minority language maintenance and multicultural cohesion more widely. Consequently, second language acquisition has been prioritised as a mechanism in these countries, both as a strategy for revitalising minority languages, and for ensuring intercultural integration in late modernity.
Language advocates and teachers in each of the contexts featuring in our panel focus attention on new speakers' development of a sense of identity in their new language, whether that is terms of Fishmanian conceptions of the language-identity nexus, or through more multicultural perspectives on language use and community maintenance. The construction and negotiation of identity and interpersonal subjectivity is therefore a crucial consideration for researchers and stakeholders who engage with the new speakers paradigm. Drawing on stakeholders' prolonged engagements with new speaker identity over many years, as well as researchers' fine-grained analyses of ethnographic data, our proposed panel will explore the issue of new speaker subjectivities in detail.
Colleagues from working group 8 will present key findings for stakeholders and make suggestions for policymakers based on their participation in the COST New Speakers network, inviting relevant stakeholders to speak about their viewpoints and to participate in a closing roundtable discussion. In addition to working group members' presentations, therefore, language teachers, new speakers and other stakeholders from Scotland, Nova Scotia, Wales, Ireland, Galicia and Catalonia will participate in our panel, taking part in a closing round table discussion and Q&A.
Participants
Stuart Dunmore, University of Edinburgh
Nicola Carty, CLAG/University of Glasgow
Kathleen Reddy, Colaiste na Gàidhlig/Gaelic College, Cape Breton, Nova Scotia
Facundo Muniain, Kiel University
Inigo M. Riobo, New Galician Speaker, University of Santiago de Compostela/ Online Galician Newspaper
Karolina Rosiak, Adam Mickiewicz University in Poznan
Anna Rolewska, New Welsh Speaker, Aberystwyth University/Office of Welsh Language Commissioner
Malgorzata Machowska-Kosciak, Trinity College Dublin/Marino Institute of Education
Maite Puigdevall-Serralvo, Open University of Catalonia
9 | New Speakers and language revitalization policies
Vicent Climent
Saturday 16 | FLUC-TP1 | 9h00-11h00
Over the last few decades, major structural changes linked to the impact of migration and transnationalism are questioning more and more the traditional monolingual state. To the historically present regional or minority languages, present in the vast majority of European states, we now find a fairly more recent layer of diversity derived from new migration and mobility patterns. These layers have been traditionally ranked according to a hierarchical logic that have distinguished between dominant majorities, old (autochthonous) minorities and "new" (immigrant) minorities.
This panel seeks to set a dialogue between different government officials and stakeholders across Europe on the current language policies being implemented in different territories which combine the three "layers" of languages, with a special emphasis on the lines of action and mechanism put in place to attract new speakers into the autochthonous languages. Rather than a traditional conference-like panel, the three speakers will engage in a dialogue on the challenges they currently face.
Participants
Vicent Climent-Ferrando, Network for the Promotion of Linguistic Diversity, Content Manager
Estibaliz Alkorta, Head of Research. Language Policy Department, Basque Government
Sabrina Rasom, Responsible for the Language Policy Department on Ladin. Govern of Fassa, Province of Trento
Alba Conesa, Consorci Per a la Normalització Lingüística, Catalonia, Government of Catalonia
Estibaliz Amorrotu, Researcher, University of Deusto
Kirandeep Kaur
Friday 16 | FLUC-Átrio Paulo Quintela | 14h30-15h30
The Photovoice Exhibition will be the culmination of a photo collection drive by refugees. The aim of this project has been for refugees and asylum seekers living in Amsterdam to choose how to be seen. Over the period of four months the group has photographed, edited and put together a visual representation of their lives. We often talk of legality from the perspective of laws; we talk of legality, illegality a-legality, however we often don't see what it means to experience those legal conditions, to understand what that lived sense of legality is. Often refugees or asylum seekers or simply displaced persons are depicted as being passive. When we do so we do not account of racial, gendered or socio-cultural identities, histories or simply their lived realities. In this sense we see refugees as subjects who are voiceless and invisible in law. What we see is others in more powerful positions; such as officials, lawyers, politicians, journalists, even researchers speaking not only about them but for them. In this process they also lose control of the way they are seen, if they are seen at all. Through these photos we will explore how law shapes experiences, interactions and daily practices of refused asylum seekers by creating a voice and visibility for themselves.
Participants
Cassie Smith-Christmas, University of the Highlands and Islands
Kirandeep Kaur, Tilburg University
Kirandeep Kaur
Friday 16 | FLUC-TP2 | 15h30-17h30
The apparent European 'refugee crisis' has created unprecedented public, political and scholarly interest. This has also created a challenge for academia in how researchers think about and respond to a changing and globalising world. What is the relevance of our research for the real world outside of academia? Refugees and displaced actors are unheard and able to have a muted voice or simply voiceless. But, what does it mean for those on the margins of society to have their voices heard? This panel will seek to highlight the ways in which researchers and practitioners can affect social change through recognising and highlighting the voices of displaced actors in their efforts to empower their own communities.
Participants
Kirandeep Kaur, Tilburg University
Elsa Lechner, Centre for Social Studies University of Coimbra
Fanny Prigent, URBAN REFUGEES
Asad Ghani, Photovoice, Netherlands
Kate Watson, Photovoice NGO, London
Francisco Font Bell, Refugee Welcome, Lisbon
Alfonso del Percio, University College London
Elsa Lechner, Centre for Social Studies University of Coimbra
Gaia Giuliani, Centre for Social Studies University of Coimbra
Zanij Noruzi, Middlesex University and Refugee Studies Centre, Oxford
12 | New speakers, new spaces, new value? New speakers and the promotion of minority languages as economic resources
Sara Brennan
Friday 16 | FLUC-TP2 | 15h30-17h30
Whereas language has traditionally been conceived of and (de)valorised in relation to culture, identity, and nation, these notions now co-exist, intertwine, and at times clash with discourses and practices framing the value of language in economic terms that have grown increasingly prominent under the politico-economic conditions of globalised late capitalism. As a part of this shift, minority language and economic development policymakers alike across Europe have increasingly drawn on these emerging discourses to promote the use of minority languages in a space in which they have often been marginalised: the commercial sphere.
Participants
Sara Brennan, Heriot-Watt University
Mike Danson, Heriot-Watt University
Eoghan MacCormaic, Business and Enterprise Language Development Officer, Glór na nGael
Neil Ross, Head of Community Growth Highlands and Islands Enterprise
Gethin Edwards, Senior Officer Promotion and Facilitation, Office of the Welsh Language Commissioner
Dylan Rowlands, Gwin DylandWad Wine, Gwynedd, Wales
James Costa, Université Sorbonne Nouvelle - Paris 3
Local panels (in Portuguese)
13 | Language diversity in Portugal: policies and practices
Olga Solovova, Raquel Matias
Thursday 14 | FLUC-TP1 | 11h30-13h30
Having officially declared itself as a multilingual state in late 1990s, Portugal has failed to acknowledge a substantial part of its actual language diversity, with origins in both regional languages and in the languages associated with migration flows, which have changed the country's social and demographic fabric. This partial recognition is evident in institutional and popular discourses that persist in investing in the centrality of the Portuguese language within a national space still viewed as monolingual.
The recent changes in citizenship laws, as well as in migration and education policies have reinforced the role of Portuguese language as one of the key access criteria to long-term residence, citizenship and civic participation, jobs in civil services and health system, as well as a determinant factor for educational success. The effective promotion of language diversity in Portugal is reduced to cultural celebration (concerts, fairs, exhibitions etc.) that brings no political change for the so-called "minority" languages and their speakers. For example, bilingual education initiatives often take form of schools where most curricular subjects are taught in English, German or French alongside Portuguese.
Since late 1980s, numerous local initiatives have been organised across Portugal to counter the lack of concrete political measures that would acknowledge the actual language diversity. We would like to use those initiatives as inspiration for this panel by focusing on the specific needs of multilingual speakers and opening a space of discussion and dialogue between different social actors. We would like to invite our participants to reflect on the following questions:
What kind of language education is being offered across Portugal (e.g. Portuguese as Non-Native Language, bilingual education, informal schooling)?
Which ways of promoting regional languages are put in practice?
Which spaces of linguistic citizenship have been developed, where local initiatives are linked with digital spaces (online journals and magazines, radio and Internet channels in different languages)?
What are the ways of enacting a multicultural perspective that would result in public policies to address the real interests of multilingual speakers?
Participants
Olga Solovova, Centre for Social Studies, University of Coimbra
Ana Raquel Matias, Centre for Social Studies, University of Coimbra; Centre for Research and Studies in Sociology (CIES-IUL, ISCTE-IUL)
Margarita Maria Correia Ferreira, Faculdade de Letras da Universidade de Lisboa e CELGA-ILTEC (UC)
Julia Prikhodko, Russian/English language teacher, Association Centro Intercultural "Espaço Vivo"
Fernanda Asseiceira, President of Alcanena City Council, Minde
José Pedro Ferreira, European Charter for Minority Languages, Mirandese language
Tiago Machete, Teacher of Portuguese and Portuguese Non-Native Language at lower secondary school grades in Luísa Todi School Cluster in Setúbal (AML), member of 1st external evaluation commission on Portuguese as Non-Native Language in Basic and Secondary Education
14 | Multilingualism and linguistic diversity in Portugal: Speakers, Knowledge and Dynamics
Clara Keating, Vera Ferreira
Thursday 14 | FLUC-TP1 | 14h30-16h30
In this panel we will focus our attention on bilingual and multilingual speakers who cross existing social boundaries, re-evaluate their own levels of linguistic competence and creatively (re)structure their social practices to adopt and adapt to new, complex and overlapping linguistic spaces. We thus start from a perspective on new speakers' multilingual competence and multilingual repertoires as a continuum between form and function. In this panel we bring into dialogue the linguistic, psycholinguistic, educational, sociolinguistic, economic and political research perspectives informing our ways of identifying new speakers' multilingual competences (native, non-native speakers, second language acquisition and socialization, foreign, second or additional languages, among others), as well as the dynamics involved in the development, negotiation and recognition of new speakers' multilingual repertoires in their spaces of daily survival. By focusing on the language-based journeys taken by individuals or groups - and the biographical junctures where significant linguistic changes are enacted in their language repertoires - we want to explore how they get shaped by multilingualism and how people conceptualise themselves as multilinguals. Dynamics of negotiation and construction of spaces of intersubjectivity and symbolic territories are intrinsically related to these processes, including the construction of linguistic value, authenticity and legitimacy, from cultural, professional and institutional perspectives. In sum, we will debate how, in our work as local language policy makers, we identify speakers, competences, repertoires and multilingual spaces of use and socialization, as well as the historical and emotional dynamics associated to speakers' multilingual subjectivities and identities. Participants will introduce themselves and their work as they provide answers to the following questions:
Who are the speakers? What kinds of knowledge (multilingual competences and repertoires) are at stake and how are they being identified, assessed and redefined? By whom, where, how and when?
What dynamics - related to language value, authenticity and legitimacy -- are involved as new speakers cross existing social boundaries, re-evaluate their own levels of linguistic competence and creatively (re)structure their social practices to adopt and adapt to new, complex and overlapping linguistic spaces?
Spaces: how do linguistic, cultural, professional, institutional and identity spaces cross? How are they constructed and how to describe their complexity?
In the light of full social and civic participation of these new speakers, what tensions and what creative responses emerge in the process and how to explain them? How to learn from experience in order to produce efficient policies with useful implications across family, local, national and transnational contexts?
Participants
Clara Keating, Centre for Social Studies, University of Coimbra
Vera Ferreira, CIDLeS - Centre for Social and Language Documentation
Maria Victoria Navas, Universidad Complutense de Madrid
Ana Josefa Cardoso, CLUNL- Centro de Linguística da Universidade Nova de Lisboa/Bilingual teacher of Capeverdean Creole (CVC) and Portuguese; CVC teacher, teacher training Portuguese as a Foreign Language
Hugo Cardoso, CLUL, University of Lisbon
Graça Santos, Département d'Études Lusophones, Université de Paris Ouest-Nanterre
Discussant
Cristina Martins, CELGA/ILTEC, Universidade de Coimbra
Wrapping up session
Saturday 16 | FLUC-ANF.II | 11h30-13h30
(tba)
The New Speakers Space
CIDLeS and the work on endangered languages
Vera Ferreira
(CIDLeS)
(Over coffee break)
This brief talk aims to present the Centro Interdisciplinar de Documentação Linguística e Social (Interdisciplinary Centre for Social and Language Documentation) and the main projects that centre has developed so far.
Thursday 14 | FLUC-Átrio Teatro Paulo Quintela | 11h00-11h30

Since 2010 CIDLeS works mainly in the framework of language documentation (multimedia documentation of communicative events that reflect the language practices of a language community), being focused on the collection of primary language data. Minderico, Fala and Bavarian were some of the languages documented so far. Community-driven documentation is the perspective adopted by the centre, i.e. the documentation work must be carried out in straight collaboration with the speech communities by training community members and getting them involved in the different documentation tasks. Based on the primary data and defending a bottom-up perspective, CIDLeS develops teaching materials and revitalization programs and gives consultancy on revitalization to several language communities mainly in Europe (Istro-Romanian, Fala, Aromanian, etc.). Moreover, considering the importance of digital communication in our everyday life, CIDLeS is also focused on language technology projects that create tools which can be used to teach, revitalize, and therefore boost the use of minority languages. The training of researchers and above all the empowerment of local communities not only to document their languages but also to use and develop language technologies for their own local languages is the leitmotiv that guides our work at CIDLeS.
The New Speakers Studio
Deirdre MacKenna
(Director, Cultural Documents)
www.culturaldocuments.net/story/new-speakers-studio
The exhibition 'New Speaker Stories' aims to represent the intangible medium of language in order to stimulate people/audiences to think about the experience of New Speakers.
Thursday 14 | FLUC-ANF.III | 17h00-18h00

The New Speakers Studio is a series of cultural 'tools' conceived and made by Deirdre MacKenna for the EU COST Action 'New Speakers Network' which is a group of researchers, policy makers and stakeholders working together to explore the dynamics involved in becoming a new speaker of a language in the context of a multilingual Europe.
The Network has sought to understand the potential social tensions that emerge from unequal access to participation of new speakers in Europe's multilingual projects. These inequalities pose challenges to European integration, social cohesion and economic collaboration, as well as to the full participation of territorial and immigrant minorities.
Deirdre and Bernadette O'Rourke, Chair of the New Speakers Network, first met at one of the regular GRAMNet collaboration development meetings in Glasgow in November 2016 and their fluent dialogues began to map out ways which could bring valuable academic research to the attention and use of people in related contexts and situations.
Deirdre created The New Speakers' Studio by working with cinematographer Gordon James to film a series of semi-structured interviews with Agata Urbanska, Brian Thunder, Daniele Sambo, Hanneke Scott-Van Weil, Leena Nammari, Miren Manias, Nadifa Essa and Nina Bacos, who shared their stories and opinions about learning and using a language other than their mother-tongue in Scotland today; being a New Speaker.
In order to avoid the audience being distracted by images of the interviewees (their age, gender, cultural styling etc) Deirdre asked the interviewees to identify an object which could act as a visual-substitute. Images of these objects were filmed and photographed and along with animated text and audio, the interviewees' narratives and language journeys have been brought to life. The film and photographs are accompanied by 'The New Speakers' Guide' which is the first booklet published to explain the New Speakers concept and provide quotes from New Speakers about their experiences.
Valorising Displaced Voices Photo Exhibition
Kirandeep Kaur
(Tilburg University) &
Cassie Smith-Christmas
(University of the Highlands and Islands)
The Photovoice Exhibition will be the culmination of a photo collection drive by refugees. The aim of this project has been for refugees and asylum seekers living in Amsterdam to choose how to be seen.
Friday 15 | FLUC-Átrio Teatro Paulo Quintela | 14h30-15h30

Over the period of four months the group has photographed, edited and put together a visual representation of their lives. We often talk of legality from the perspective of laws; we talk of legality, illegality a-legality, however we often don't see what it means to experience those legal conditions, to understand what that lived sense of legality is. Often refugees or asylum seekers or simply displaced persons are depicted as being passive. When we do so we do not account of racial, gendered or socio-cultural identities, histories or simply their lived realities. In this sense we see refugees as subjects who are voiceless and invisible in law. What we see is others in more powerful positions; such as officials, lawyers, politicians, journalists, even researchers speaking not only about them but for them. In this process they also lose control of the way they are seen, if they are seen at all. Through these photos we will explore how law shapes experiences, interactions and daily practices of refused asylum seekers by creating a voice and visibility for themselves.
New Speakers in the city
Porta para o Exterior
Sabela Fernández
(AGAL - Associaçom Galega da Língua) &
José Ramom Pichel
(Universidade do País Basco)
vimeo.com/204688227
Documentary
Porta para o Exterior
presents the point of view of reintegrationism, a way of thinking about the Galician language which was banned from the official Galician speaking circles since 1982 and socially depreciated after the implementation of the "Orthographic and morphological standard of the Galician language" to be taught in Galician schools in the same year.
Thursday 14 | Casa das Caldeiras | 18h30-19h30

Under the direction and script of Sabela Fernández and José Ramom Pichel, voice-over of Sara Mejuto, edition of Axóuxere and production of Agal, "Porta para o exterior" is a journey that allows us to walk through the experiences of more than 70 people, who show us how and why they live their language every day as a language that is spoken not just in Galicia, but also in other parts of the world - Brazil, Portugal, Angola, Mozambique, Cape Verde and East Timor - and the challenges it brings.
The documentary aims to explore without intermediaries the reasons for these people to look at Galician and Portuguese as linguistic varieties of the same language, as well as further proposals for the empowerment of speakers of this language in the north of Minho river (Autonomous Region of Galicia, in Spain). Nowadays IGE (Galician Institute of Statistics) reports that only 13% of Galician children under 14 years of age have Galician as their daily language, whereas in previous generations this was the language most spoken in Galicia.
Airc/Hive
Brian Thunder
Airc/Hive
is work in progress and focuses on the experiences of minority language speakers in a world dominated by majority languages. It explores the reasons why the rate of loss of bio-diversity and linguistic diversity are identical and how they may be linked.
I will present some work in progress from the play I am currently creating with Grid Iron Theatre co in Edinburgh. Supported by visual images, this will consist of a short performance of some monologues performed by me; an explanation of the origin and motives of the play; an examination of some of the research that has helped to create the piece; a question and answer session.
Friday 15 | Casa das Caldeiras | 18h00-19h00
https://goo.gl/maps/ei3AD2PWmct
The Secret Language
Pia Lane
(Multiling, University of Oslo) with
Lightsource Productions
vimeo.com/32546175
Friday 15 | Casa das Caldeiras | 21h30
https://goo.gl/maps/ei3AD2PWmct
In the documentary The Secret Language we meet speakers of a minority language in Northern Norway. This minority group, the Kven, has been oppressed, but now there is a growing interest in Kven language and culture. The film addresses essential questions such as: If your language is not recognized as a language, how does this affect you? How do Kven people experience reclaiming their language and identity? The Secret Language is produced by Lightsource Productions, in collaboration with Pia Lane (MultiLing, University of Oslo).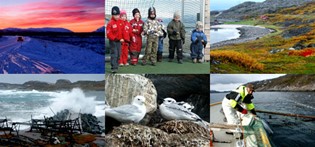 Conference Dinner
The conference dinner will take place on
September, 14 (8pm)
in the Coimbra historic centre at the restaurant
'Solar do Bacalhau'
(Rua da Sota, 12) that offers a wide selection of the Portuguese traditional dishes. It will also be a great opportunity to listen to a Coimbra fado performance from
Fado ao Centro
.
Places are limited to
80
max.
Sign up when you register to secure your place.
Please indicate your dietary preferences (vegetarian, non-gluten, etc.)
Final Programme - download here (pdf)