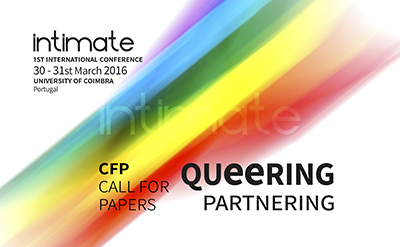 Queering Partnering is the 1st International Conference stemming from the large ERC funded study INTIMATE: Citizenship, Care and Choice – The micro-politics of intimacy in Southern Europe (www.ces.uc.pt/intimate). This year the Conference will focus on LGBT/queer partnering.
The ways in which people choose to be, or are constrained into being, coupled have been at the centre of public debates on intimate citizenship. From legal demands voiced by activists to the de/construction of love and relationality proposed by academics and the constant advancement and setbacks echoed by the media, never as strongly as today could we speak of diversity when it comes to partnering.
Faced with challenges advanced by non-heteronormative partners, the time has come to think critically about queer intimate relationships.
How central is the idea of couple, and to what extent, and in what ways, is that idea being queered?
What does the recognition of a relational orientation or relational diversity entail?
Where do we see the resurgence of new normativities?
What is absent, what is achieved?
How are the processes of European/global precarization affecting LGBT partnerships?
What is the role of LGBT and queer studies, often caught at the cross fire between mainstream academia and outraged collective actors?
Within the broader theme of LGBT and queer partnering, we encourage abstracts from academics and/or activists addressing one or more of the following issues:
Media representations of LGBT/queer partnering
Qualitative methods in researching LGBT/queer partnering
Queering gender, bodies and sexual practices through LGBT/queer partnering
Queering citizenship: legal frameworks and social policies in relation to LGBT/queer partnering
Queering public sociology: activism and academia
Relational diversity, non-monogamies and LGBT/queer partnering
We are committed to promoting interdisciplinary, intersectional, reciprocal knowledge production and sharing in academia and beyond. Therefore we are open to the submission of academic abstracts but also proposals stemming from artistic accounts and activists' reflexive contributions.
Due to logistic constraints, the work language during this conference will be English. The venue is accessible to wheelchair users.
Abstracts should not exceed 300 words and should be submitted through Submission Form.
Deadline: 30 November 2015
Notification of acceptance: 15 December 2016
The conference will be held at:
Faculty of Economics University of Coimbra
Avenida Dias da Silva, 165, Coimbra, Portugal (See map)

SUBMISSION FORM