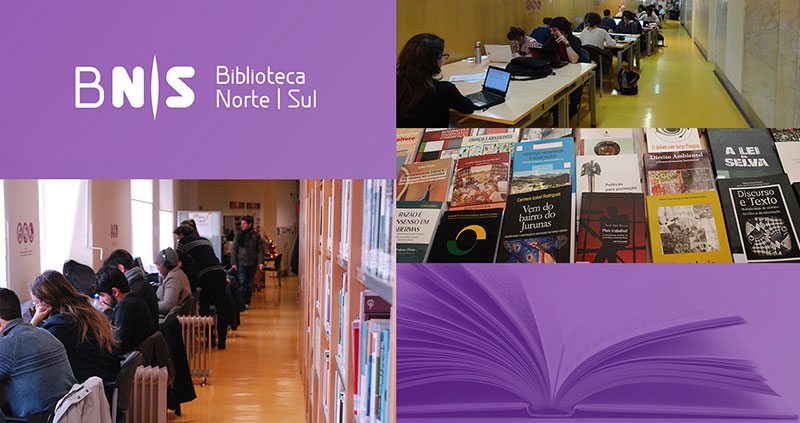 __________________________________________________
RETURNING TO SERVICE POST-COVID

We inform you that the North / South Library (BNS) is open from Monday to Friday: Mornings (9:30 am /12:30 pm) & Afternoons (2:00 pm/6:00 pm).
Remote Reference Service remains in place, via e-mail: biblioteca@ces.uc.pt. Likewise, if you wish to have the books ready to pick up, when you arrive at BNS, please, send us an email request with the title, author and Call number.
Hopeful you will choose our library, we thank you for your understanding.
Best regards
Maria José Paiva Fernandes Carvalho, Coordinator of the North | South Library
________________________________________________

NOTE: If it is imperative that you return the books and other materials you borrowed from BNS - owned by BNS, only - you may send them by registered mail to:

Centro de Estudos Sociais - Biblioteca NorteSul (C/o Maria José Carvalho)
Colégio de S. Jerónimo, Largo D. Dinis
Office 3087
3000 - 995 Coimbra
________________________________________________

We also inform you that all the activities of the Publish do not Perish Cycle: Survive the stampede have been temporarily cancelled. We intend to reschedule for later dates, in presence or at a distance when and if pandemic allows.

CES and the BNS Team thank you for your patience and understanding.
________________________________________________
The Biblioteca Norte/Sul - BN/S (North/South Library) aims to create a comprehensive, reliable, and authoritative bibliographic collection – especially but not exclusively comprising of books and periodical publications resulting from scientific production of the global South, in the area of the Social and Human Sciences. It further includes scientific production conducted in the countries of the North on subjects pertaining to the countries of the South. The B N/S had its inception in 1998 and, currently, is undergoing a period of collections' growth, comprising a wide variety of subjects.
The B N/S current collections consist of more than 25,000 volumes (monographs, theses, dissertations, research reports and grey literature), including a collection of about 2600 volumes donated by 25th of April Documentation Centre and more than 400 periodical publication titles (from a wide range of countries around the world) in the area of the Social and Human Sciences.

Librarian Coordinator: Maria José Paiva Fernandes Carvalho
Librarian: Acácio Carvalho Machado
Assistant Librarian: Inês Lima
Contact: biblioteca@ces.uc.pt